Christmas parties have always been something TrueLogic does right, and this year is no different.
With the holidays being just a few days away, the whole company came together on Thursday night to celebrate not just Christmas, but another important milestone: the 5th Anniversary of TrueLogic.
Dubbed "The TrueLogic High Five Festival," the event served as an opportunity to look back at five years of TrueLogic and celebrate Christmas at the same time. In line with the theme of five years, our amazing People Department shook things up a bit by assigning each department a different theme.
This year we celebrated our Christmas with a bit of class; the Content Department came in dressed to the nines in their Blue Masquerade theme, complemented by Production Department in their Silver Masquerade theme. Together, the two teams represented the colors of our company. Elegance aside, the party also introduced a bit of rock and roll; the Web Development Team came in dressed as music icons, and People Support and Admin came dressed as some of the most recognizable movie icons of our time. Rounding out the festival were some seriously amazing getups by folks from the Sales and Accounts team, who were assigned with the coolest theme of all: cosplay.
The TrueLogic High Five Festival was held at the Society Lounge along Makati Avenue. HR Manager Armund and Clayton got things started with their opening remarks before a sumptuous feast (fit for a classic fiesta) was served.
After the meal, the program started off with "Town Hall with a Twist" hosted by Anj, Carla, and Matt. The three relayed positive feedback and holiday wishes by some of our happiest clients. After the three were done, we moved on to the first game of the night: The TrueLogic Singing Bee. Hosted by Carlo, Gary, Eddie, Will, CJ—TrueLogic's very own boy band—the game saw random members of our little family filling in the missing lyrics as our very own Song Bees Jem and Jill sang, accompanied by Jayvee and Xaikhie on guitars.
Following more than ten rounds of the Singing Bee, Arnel and Vincent hosted a segment awarding the winners of TrueLogic's very first People's Choice Awards. The winners are as follows:
TrueLogic Megaphone – Samantha Enriquez
TrueLogic Human Vulture – Jay Pagkatotohan
TrueLogic Pitbull – Clayton Wood
Ms. Brightside – Angela Salta
TrueLogic's Next Superstars – Elzer Ramos, Jilliane Pacquing, Edwin Nacino, MC Rogado, and Lydia Rodillo
TrueLogic Sweetheart – Itamar Gero
The Face of TrueLogic – Angela Salta
Loveteam of the Year – Clayton and MJ; CLAY-J
TrueLogic Alien of the Year – Matt Wooldridge
Following the awards show, MJ, Gaia, and Zhai hosted TrueLogic's Next Top Model, which saw Jill, Vincent, and our very own CEO, Itamar, as the top finalists. After a little gag by MJ proclaiming herself as the winner, Vincent Trinidad of the Content Team was declared as TrueLogic's Next Top Model.
As a wrap up to the festivities, Sam and Edwin hosted TrueLogic's Minute to Win It, which saw folks from different departments win cash prizes after taking part in some difficult games. Following the games, Sam and Edwin, with the help of various members of management, got started with the most anticipated event of the evening: the raffle.
Prizes given away that night included over 20k in cash prizes and gift certificates, free memberships at Urban Ashram Yoga, some pretty sick Urban Ears headphones, a Sony wireless music player, a microwave oven, and not just one, but two 32-inch Samsung TVs.
The program ended with the awarding of winners of TrueLogic's very first Innovator Awards. This program was introduced by management in an effort to get team members to contribute to making TrueLogic the company of choice no just for employees, but most importantly, the thousands of clients we service across the globe. As Itamar mentioned, innovation really helps the company improve processes and allows us to work more efficiently and hit our goals. All it takes is an idea to solve or improve a problem and pushing for it BECAUSE you believe in it.
Ideas of all sorts were pitched over the course of 2014, but only one could be proclaimed winner. Besting almost over a hundred entries from January 2014 up until this month, Rex Eugenio came out on top and won an all-expense paid trip to Hong Kong.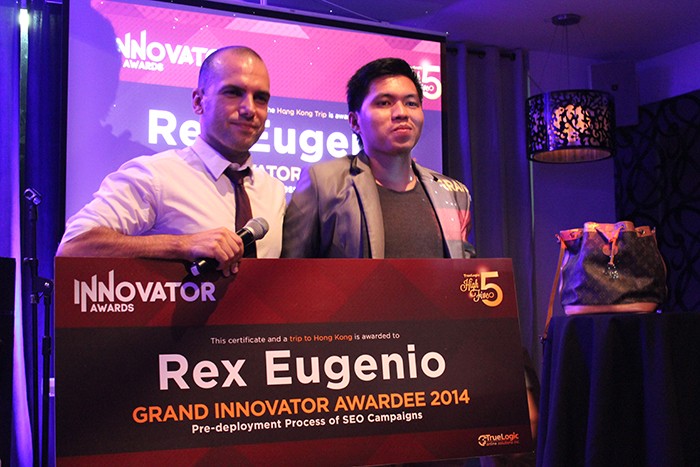 After all was said and done, our CEO Itamar took to the stage to look back on the year that was and to send a message to the TrueLogic family. With a message that centered on continuing to be the best that we can all be, TrueLogic's sweetheart encouraged everyone to sit back and enjoy the rest of the evening—the bar was finally open and drinks flowed all around.
With music thumping and everyone in a jovial mood, the TrueLogic High Five Festival was truly another party for the books. Check out the gallery below to see some of TrueLogic's best in action.
Merry Christmas and Happy Holidays, from the TrueLogic Family to yours!
Here are some more pictures of the event: