If there's anything that the TrueLogic family is good at, it's – well – everything!
Last June 10 to June 11, 2017, the company hung their SEO hats for two days and took a five-hour drive to Hotel Brizo Resort, Bataan. Other than digital marketing professionals, we never knew we had a slew of musicians, rappers, bartenders, sports mavens, quick-witted Jenga players, karaoke kings and queens, and even a dodgeball whiz with superhuman moves straight out of The Matrix.
The company outing was a display of skills, talent, and individuality like no other.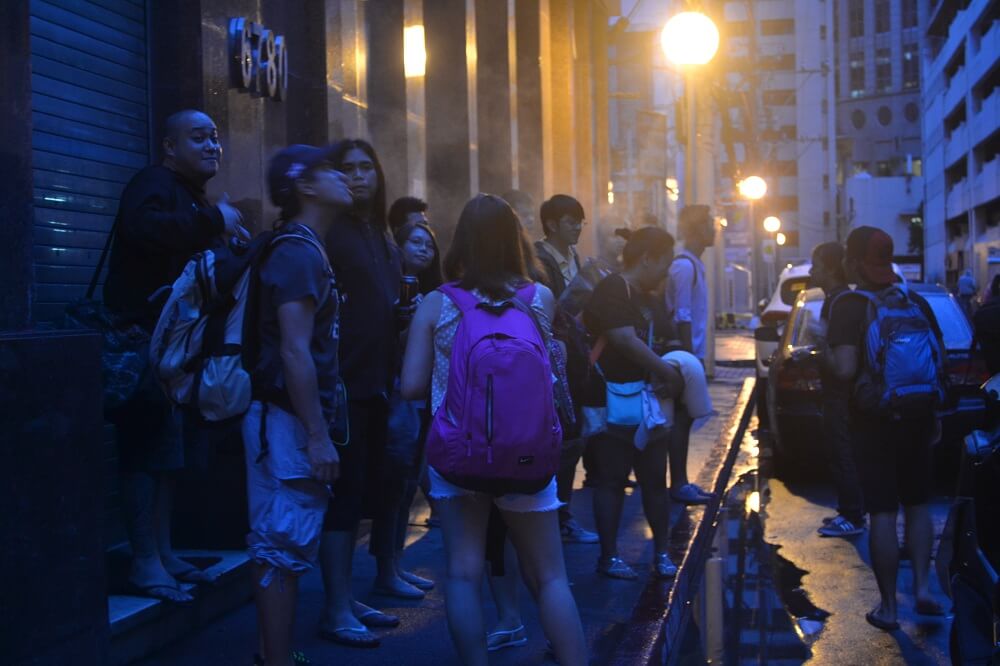 5AM might have been too early for the night owls, but the team was as vibrant as always in the assembly area at Dela Rosa Access Road 2. After a long ride up north and a few hours of peaceful sleep on the bus, TrueLogic was more than ready for a breather.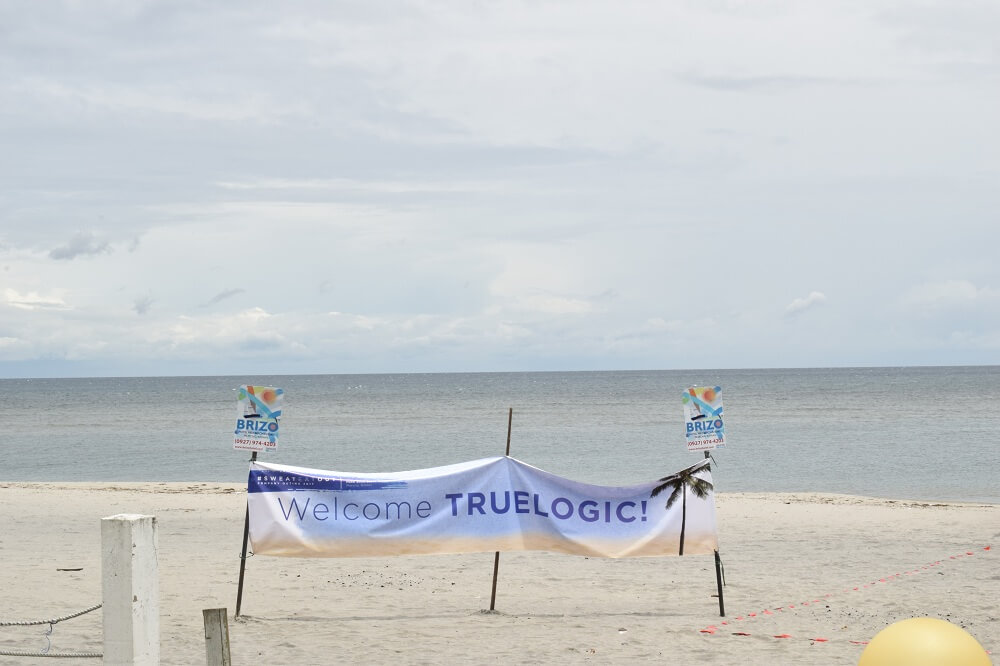 ALL FUN AND GAMES
Upon arrival at the venue, host Chewy Buhion called the shots and split the company into five teams: Yellow, Green, Red, Blue, and Orange. And the fun commenced!
THE SQUARE ROOT OF A TEAM

We take every game seriously, even ice breakers. For the Perfect Square activity, all the members of each team were tasked to form a square with blindfolds on – the team with the best square wins. This urged people to strategize as a team while working together without their sense of sight. Despite the great efforts from all teams, the Blue Team won this round.
GIANT JENGA, BABY!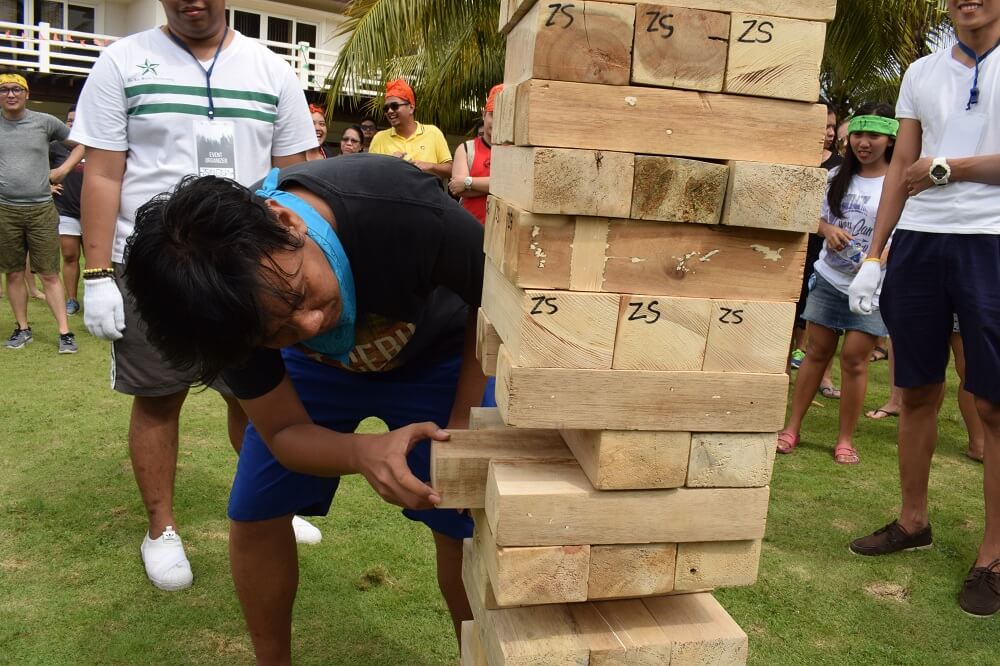 The second activity for the day was Giant Jenga. The Jenga tower was placed in the middle of the field and a member from each team took turns pulling out blocks from the tower. The rules were the same as the original game, just on a bigger scale.
After several rounds, it was down to the Green Team and Yellow Team. But the game ended when the tower toppled during Green Team's turn. The Yellow Team won!
WHISPER ME MINEFIELD

This is where it gets tricky. The organizers set up the platform and scattered half-filled plastic cups with colored plastic balls on top. It was a confusing arrangement but when Chewy called it a minefield, everything made sense.
While wearing blindfolds, a member of the team has to make it from one point to the other through the guidance of their team leader's voice without stomping on any of the plastic cups. Each team's tactic was unique and team leaders had their own ways of giving directions – it was a treat to watch. Amongst all the teams, the Red Team had the most members across the platform, securing their win.
FETCH A PAIL OF WATER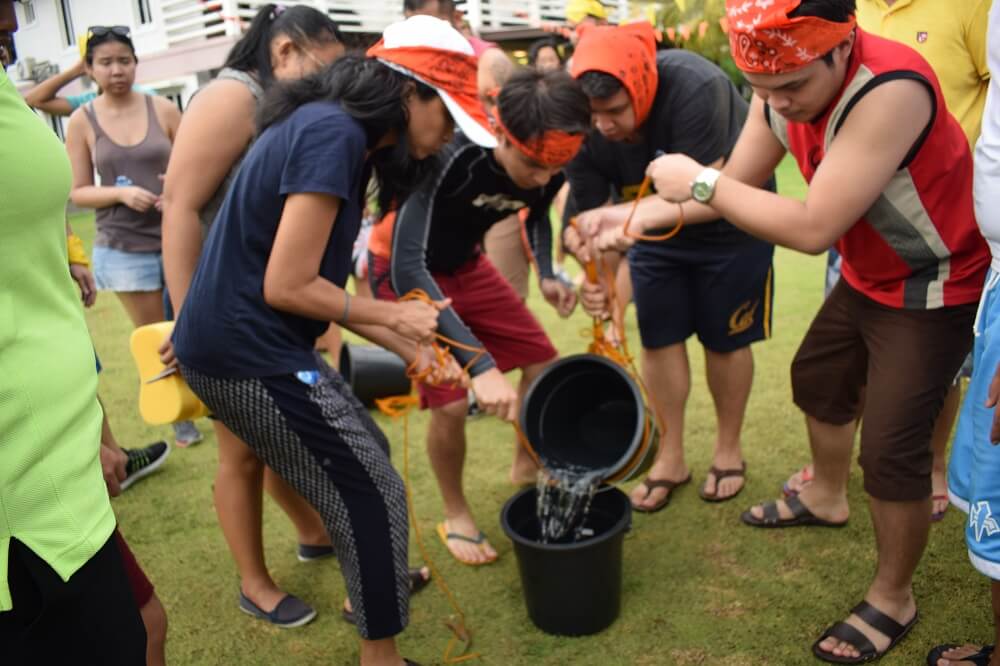 The hardest activity of all was the Bucket Game. Five members of the team had to soak a sponge with pool water and fill up their team's buckets. Five others were in charge of tying the bucket with a rope while another five members had to lift the bucket and pour the contents onto another bucket (a little complicated, we know).
The team with the most water in their final bucket wins. Although the Green Team was the first to fill their buckets, the Blue Team was the true victor.
DODGE ME NOT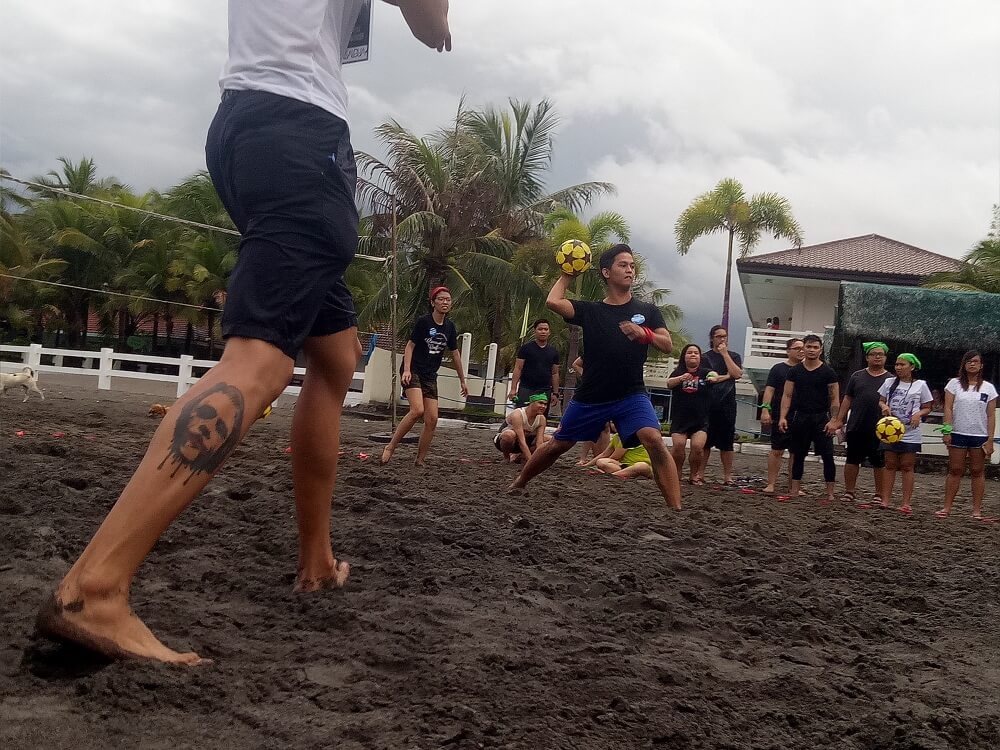 TrueLogic moved to the beach for a wild game of dodgeball. At this point, the rain poured but that did not dampen our competitive spirits.
The dodgeball games were a cinematic treat. John Pangan from the Content Team dominated the field and impressed the crowd with the tricks of the trade and Neo-esque moves. Chill Repedro outdid his other teammates as well in the later rounds. But in the end, the Blue Team triumphed.
AND THE WINNERS ARE…
Before the Night Socials started, CEO Itamar announced the overall winners for the day's team building activities.
In 3rd Place was the Red Team with a prize of Php7,000. Coming in on 2nd place was Itamar's team, winning Php10,000. The crowd went wild for the frontrunners: the Blue Team. Itamar handed the champions a grand total of Php15,000 for their victorious win.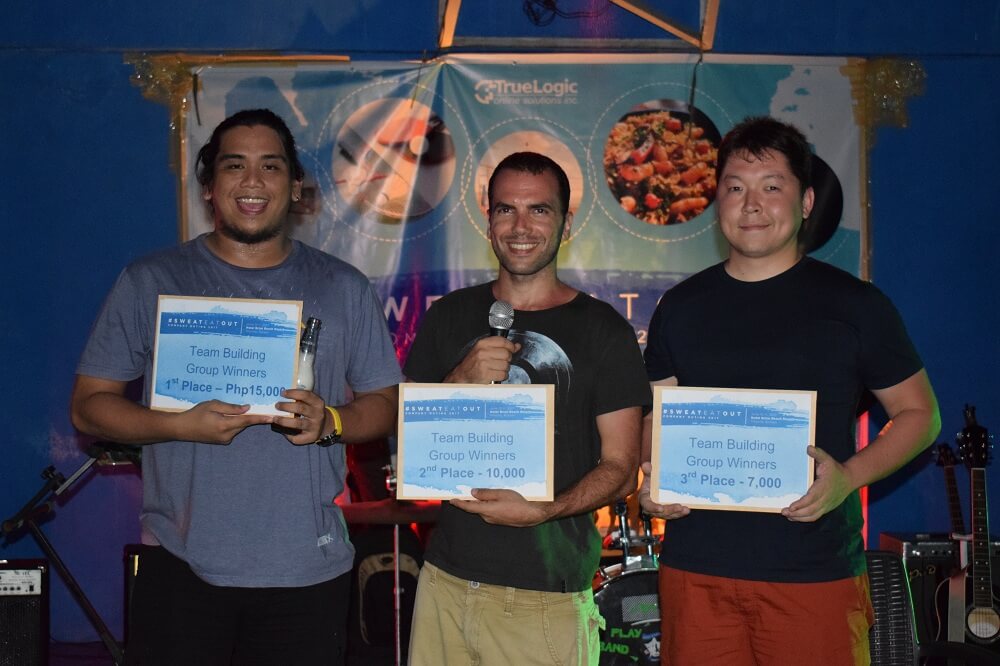 A LITTLE PARTY NEVER HURT NOBODY
Chewy again hosted the Night Socials and some Truelogic employees played a round of drinking games to set the mood. It was TrueLogic's own band No Index (Jentri Fule, Shaw Morales, Tim Bienvenida, Pocholo Torres) that truly lit up the night.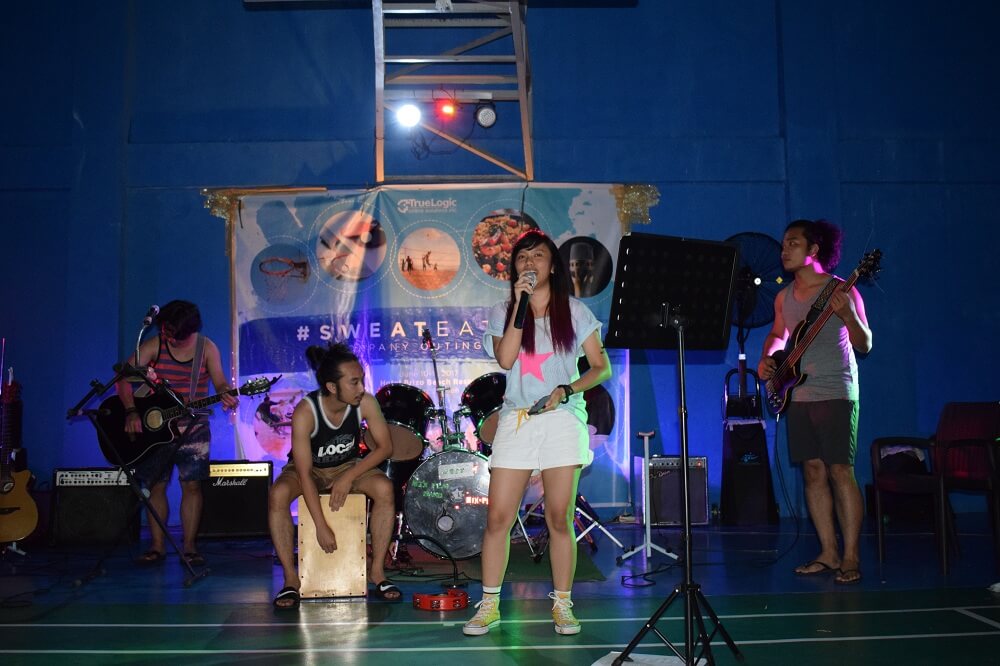 The night is never lonely with friends, tunes to sing, and a few (or many) drinks. For the #TrueIdols jamming session, there were special performances headed by our very own Itamar who jammed by playing the guitar and the drums. There were also powerful performances from Jayson, CJ, Jill, Kat, Jigger, Berns, Ina and Dale and many others that completed the night. We have such a talented bunch of people.
After #TrueSessions, the last people standing huddled by the Karaoke machine and sang the night away.
MORNING SPORTS
At TrueLogic, we never say no to a game. On the last morning in Bataan, there were basketball and volleyball tournaments, as well as friendly rounds of badminton and table tennis. Never mind that some players are still having some kind of hang-over, they just went on to play all for the sake of sportsmanship and camaraderie.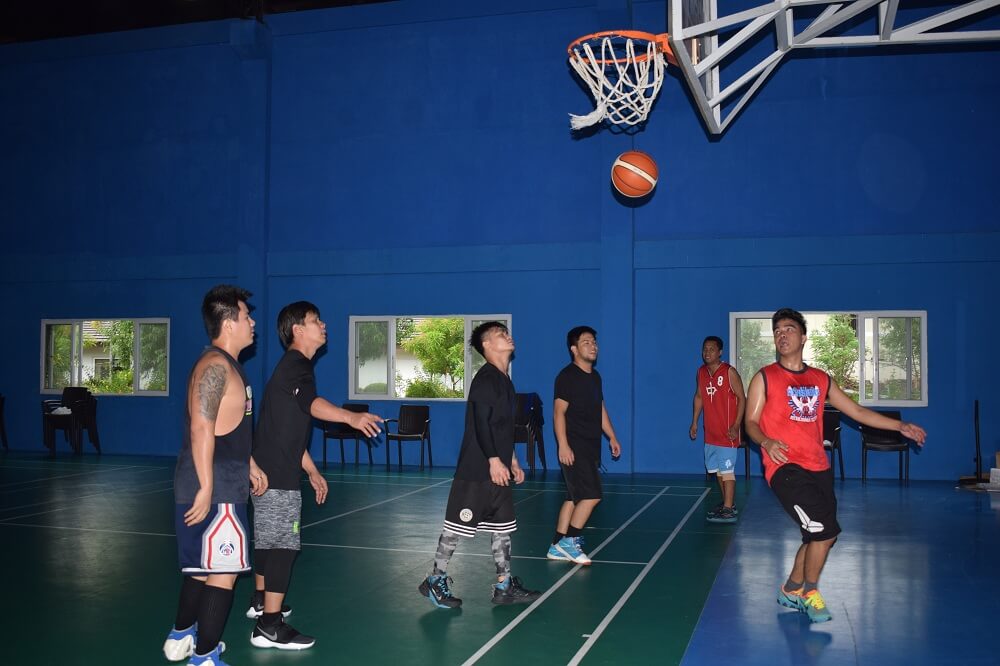 The winning teams were as follows:
Badminton – Jill Pacquing and Inna Espiritu
Volleyball – Blue Team (Sam, Chill, Merjohn, Coey, Akai)
Table Tennis – Ina Tuason
Basketball – Blue Team (Merjohn, Anton, Junnel, Lester, Allen) and Red Team (Rod, Atong, Weng)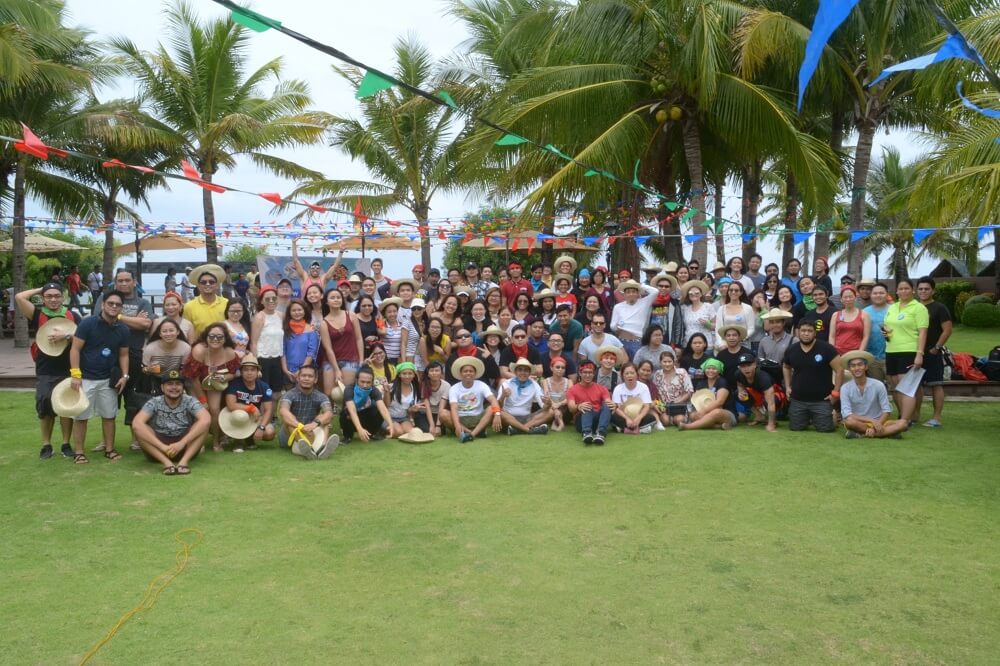 Other than the fun of it, #SweatEatOut2017 reminded the team how wonderful it is to be working alongside individuals who are not only dedicated to their work, but who are also passionate and competitive outside of their day jobs.
Nothing beats working and playing with a family. 'Til next year, team!
It's easy to forget about health when we're too wrapped up in work.
Luckily, the TrueLogic family knows that health shouldn't be taken for granted. To keep its employees happy and healthy (and well supplied with freebies), TrueLogic held its annual Day of Health and Wellness on August 31, 2017.
The annual health day is a way to alert employees of their health condition. Our lifestyle partners set up booths in the hallway, ready to check if we were in tip-top shape. There were goodies for everyone, too.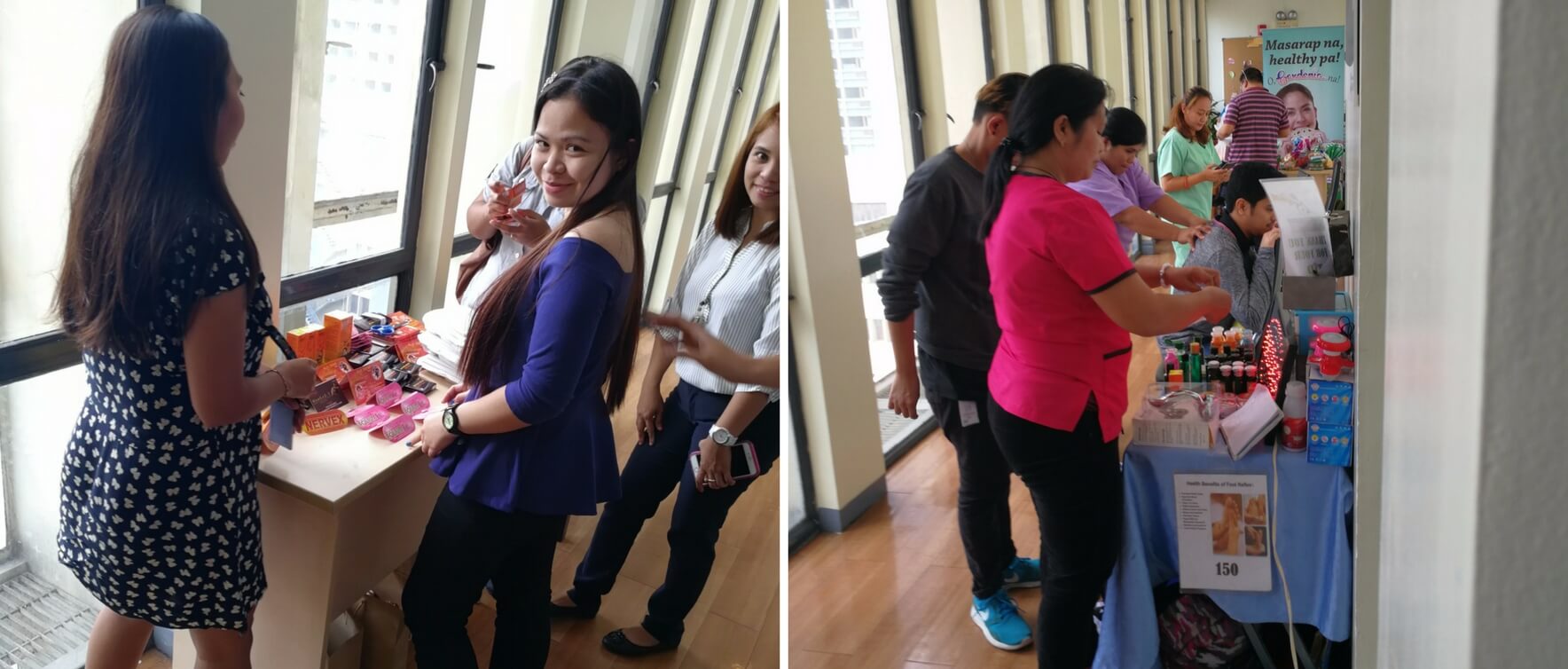 KEEPING SENSES ALIVE
A bright smile is not enough – the entire mouth must be clean and healthy, too. Since brushing alone won't work, our partners from Oracare came to the rescue! They presented employees with products to help us get sparkling teeth and healthy smiles.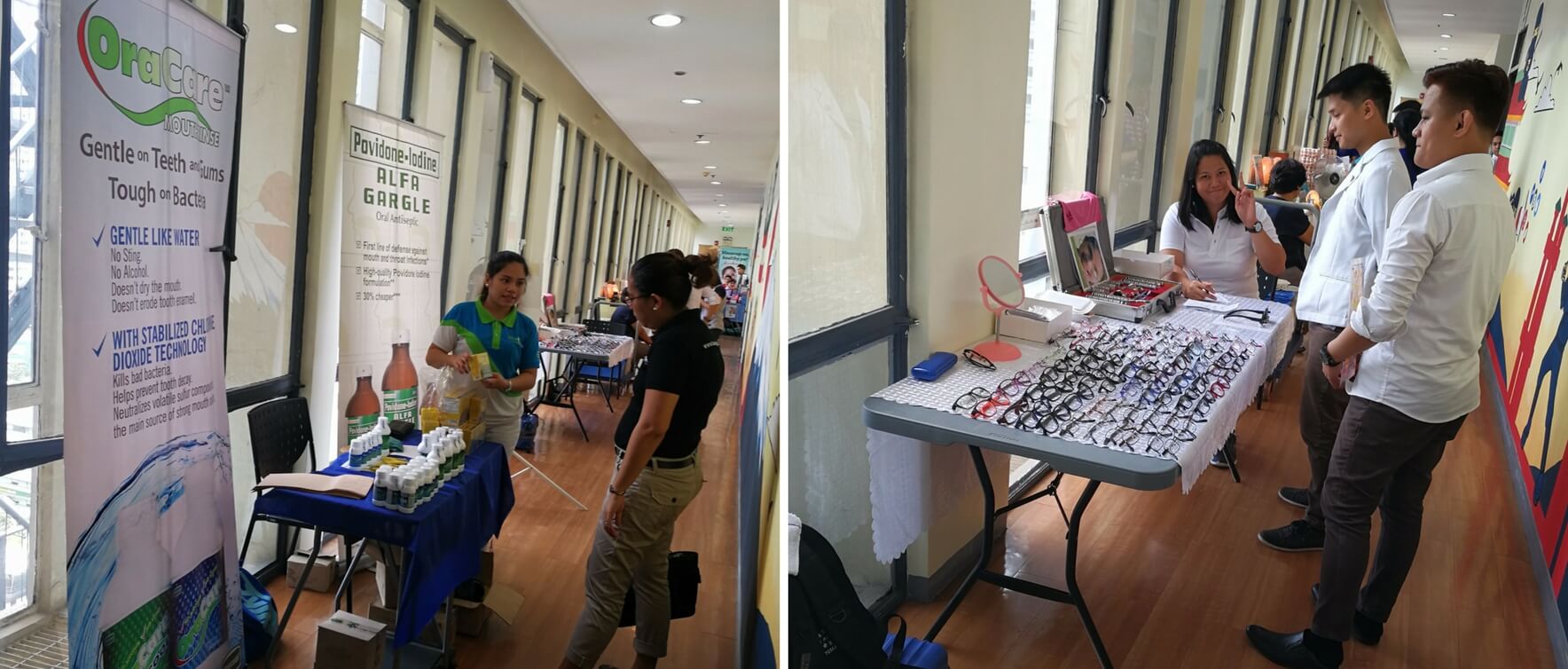 Living in the age of smartphones and computers, we all see the importance of eye health. Recognizing this, our partners from Paterno Eye Care Center gave employees free eye check-ups. They also brought a variety of eyeglasses and frames for those needing an eyewear upgrade or looking for that extra specs appeal.
We did not forget our skin, either – it is, after all, our first line of defense. To supply our skin care needs, Simply Nature Organics and India Herbs and Supplements brought fragrant oils and skincare products. Simply Nature Organics' selection of essential oils, mosquito repellants, underarm whitening creams, and anti-bacterial sprays reminded us how keeping our skin flawless feels good.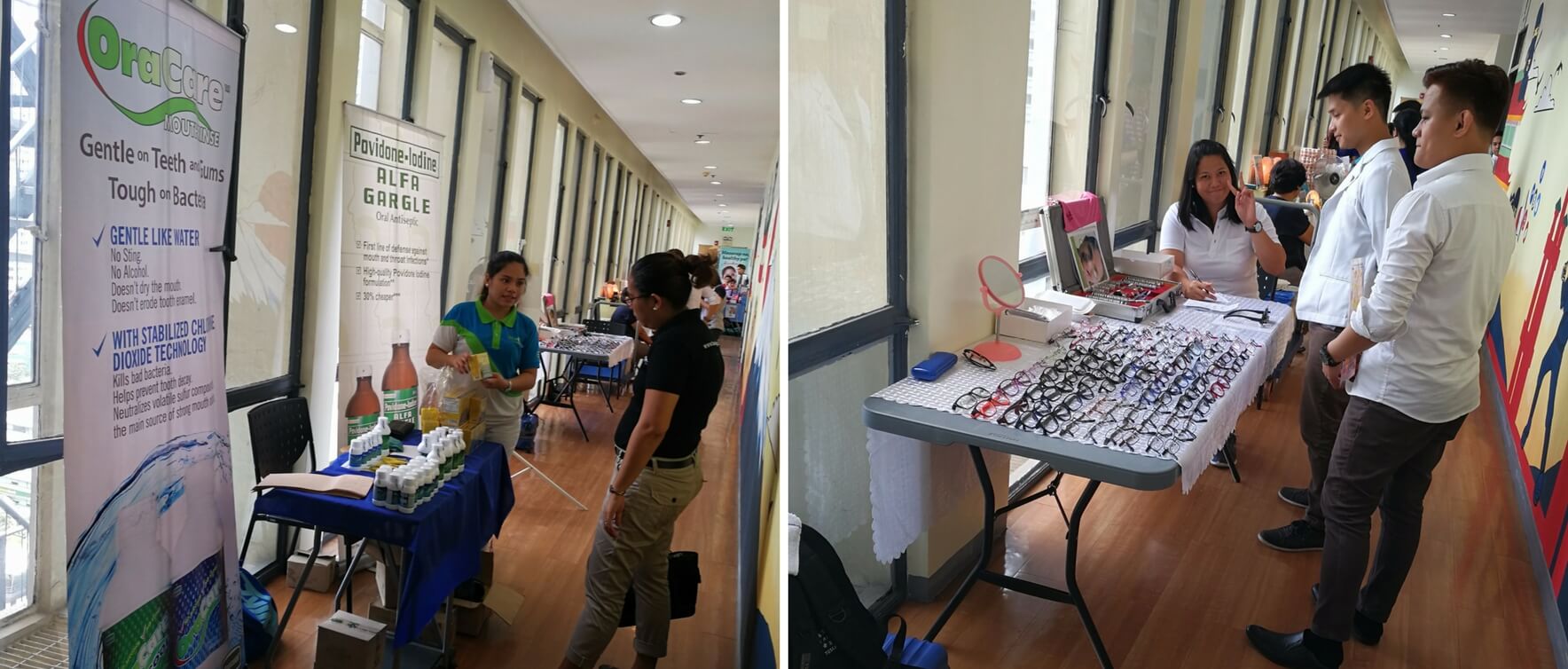 CHECKING SIGNS OF WELLNESS
Now, flawless skin may be a sign of health, but health shouldn't be just skin deep. We also need to eat good food to achieve a healthy weight and maintain proper digestion. With Yakult and Gardenia coming in to offer their products, we were in good hands. Those who bought Yakult's milk not only got a good deal, but were given extra bottles free of charge.
A healthy diet isn't hard to reach, but it can be difficult to eat good food that doesn't taste good. Our friends from Gardenia believe the same thing. Their tasty bread samples were filling and provided the fiber we need. Also, since too much of the good stuff can be bad, Gardenia offered a free Body Mass Index check to see if employees need to trim down or bulk up.
But weight! Weight isn't the only indicator of health; blood pressure and blood sugar content are strong factors. To take care of these two, our partners from Health Allies monitored the employees' BP and conducted blood sugar testing. Prosel Pharma Inc. and Pascual Laboratories gave away vitamin samples and C-Lium Fiber products, respectively.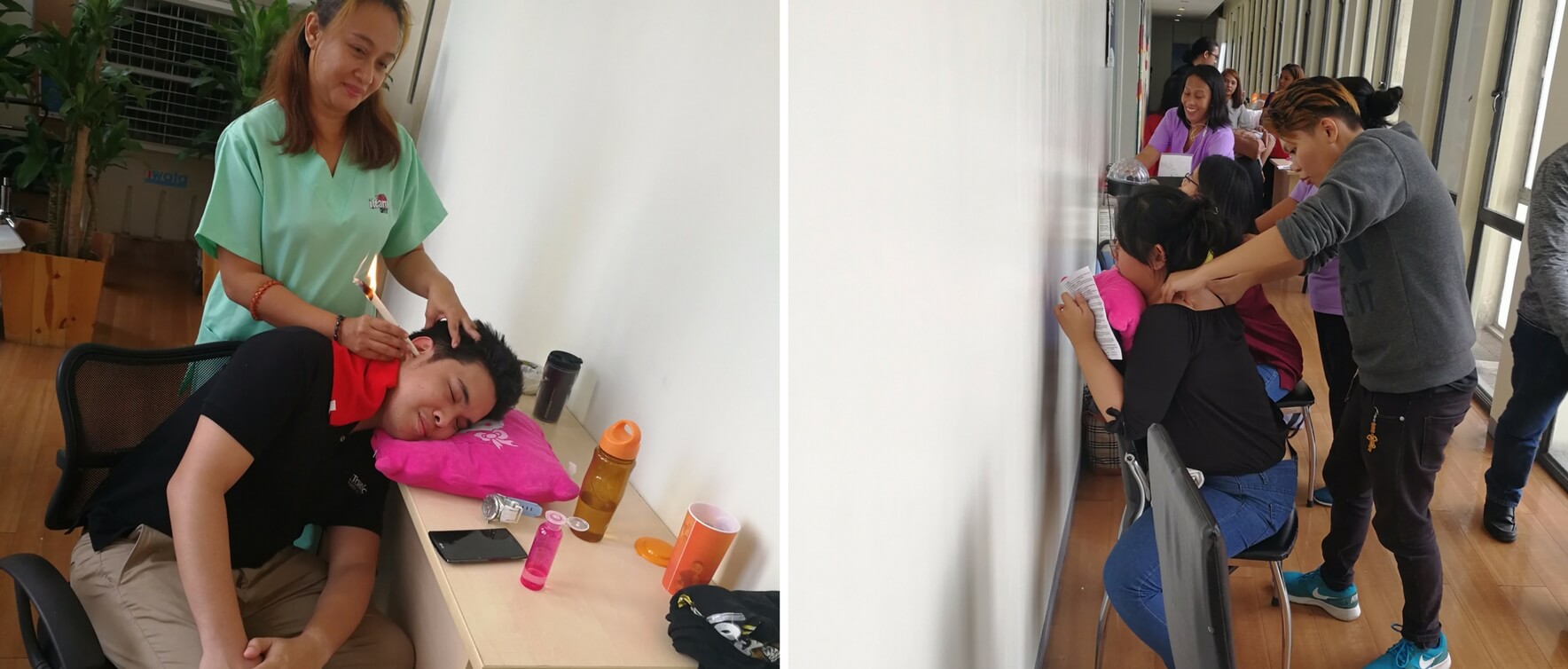 Once in a while, our body needs pampering. The stress from home and work can cause body aches and muscle tension. Our partners from White Flower Embrocation were heaven sent (with their heavenly scented oils and treatments). They offered a free massage to relax our muscles and soothe our aches. At TrueLogic, employees work hard – we deserved a few minutes of relaxation.
GETTING INTO THE GROOVE
Of course, we did not stop at checking our health-o-meters – we pumped them up, too! The Hip Hop Class by Anytime Fitness gave employees a chance to have fun while sweating it out on the rooftop. The energy was so high that not even the rain could stop them. (And we discovered that some of our colleagues had great moves!) Dancing together forged friendships among colleagues.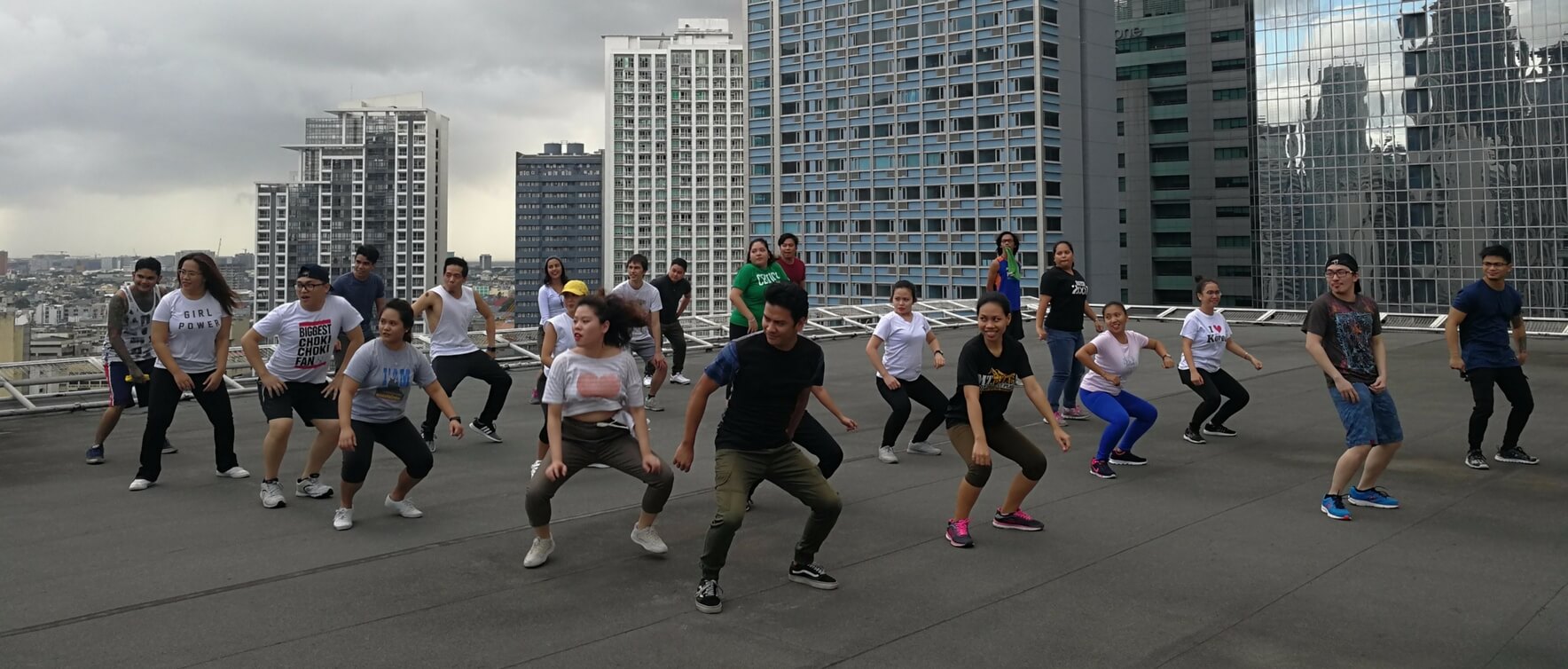 Of course, it's not health and wellness day if there's no food! TrueLogic employees shared a hearty meal that night during the Birthday Kainan. But it wasn't your ordinary buffet; it was a balanced menu of healthy dishes.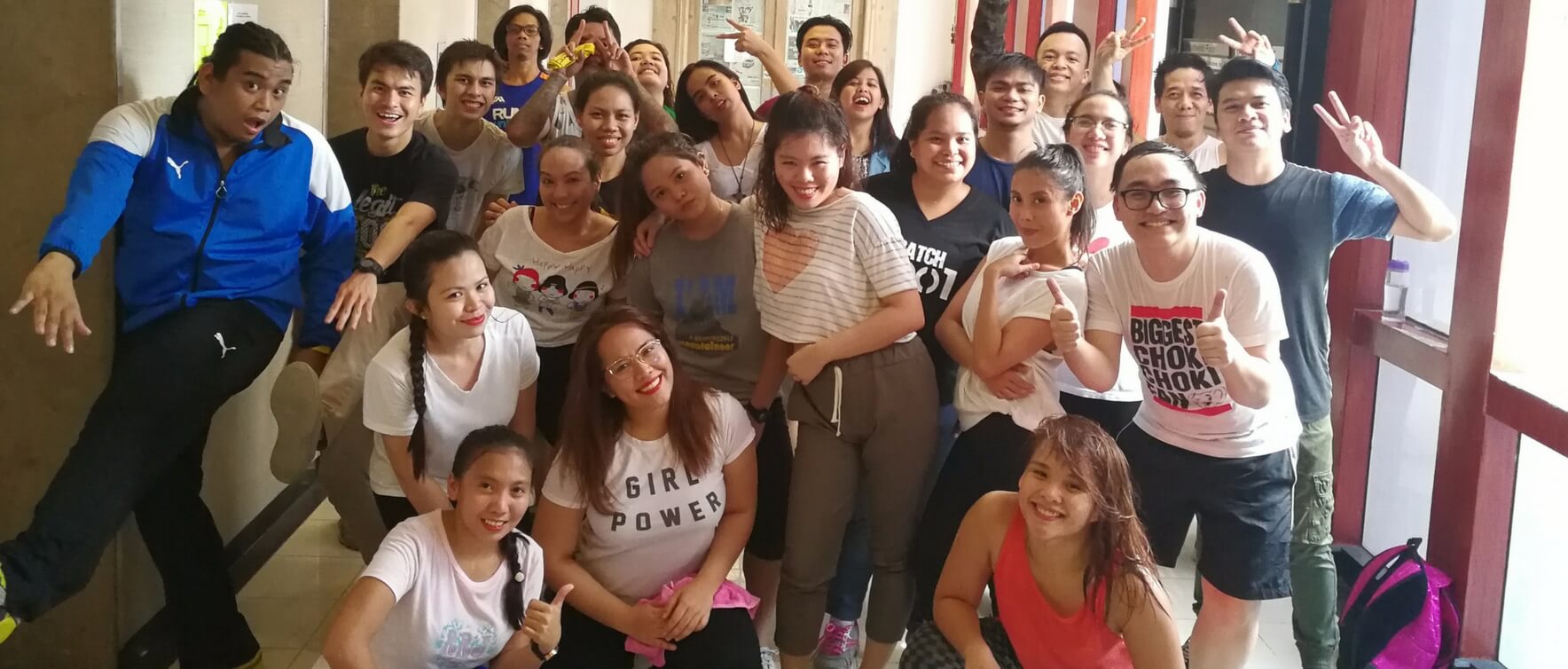 At TrueLogic, health goes beyond the physical. By ensuring our mental, emotional and social well-being as well, TrueLogic Health and Wellness Day 2017 revived our spirit for fun and our drive to carry out daily challenges with ease.
2PM - AM & MID
10PM - NIGHT
No Town Hall
Holy Thursday